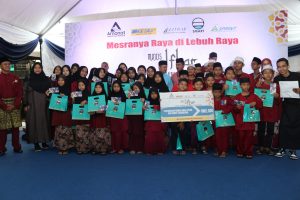 We are delighted to share the tremendous success of our recent event, "Majlis Iftar Kumpulan Amanat Lebuhraya Rakyat 2023," which took place on the 17th of April 2023. This remarkable gathering brought together our Muslim staff members in a joyous celebration of unity and solidarity during the holy month of Ramadan.
One of the highlights of the event was our commitment to giving back to the community. As part of our corporate social responsibility efforts, we made a significant contribution to Pertubuhan Rumah Anak Yatim dan Asnaf Sijangkang, Klang. This act of kindness aimed to support and uplift the lives of the underprivileged individuals, reflecting our deep-rooted ALR core values of compassion.
In addition, we introduced an inspiring campaign – "Mesranya Raya di Lebuh Raya" during the event. This campaign focused on encouraging the public to celebrate the spirit of camaraderie during Aidilfitri. Content and messages related were posted on social media through the hashtag #mesranyarayadilebuhraya. The campaign covered various aspects, including road safety advisories, promoting a positive working culture, and highlighting our Ramadan charity initiatives.
The event was filled with memorable moments among ALR's staff members. As the sun set, delicious and refreshing food and beverages were served for Iftar, allowing everyone to break their fast together in a spirit of unity and gratitude. The atmosphere was brimming with warmth and happiness as colleagues shared laughter and engaged in meaningful conversations.
This successful Majlis Iftar not only reinforced the importance of community engagement but also fostered a sense of togetherness among our staff members. We believe that such events not only strengthen the bond between colleagues but also promote a harmonious work environment that values diversity and inclusivity.