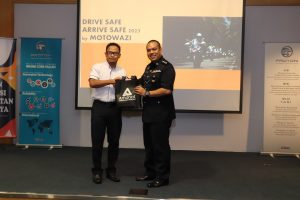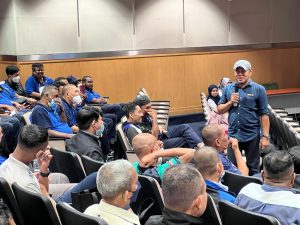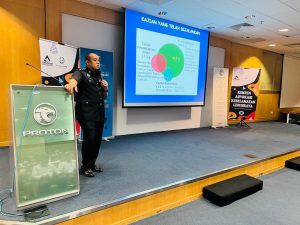 Shah Alam – Amanat Lebuhraya Rakyat Berhad, in collaboration with PROTON and the Royal Malaysian Police (RMP), recently held a Road Safety Awareness Talk to address the concerning trend of Moving Vehicle Accidents (MVA) in Malaysia. The statistics recorded by the Malaysian Institute of Road Safety Research (MIROS) indicate that motorcyclists have been involved in more than 60% of deaths in road accidents over the past 20 years, highlighting the need for increased awareness of safe riding behavior.
The Awareness Talk was successfully organized on 21st March 2023 attended by 100 participants, including PROTON HICOM staffs and management.
The objective of the program was to educate motorcyclists on the importance of practising safe behaviour while riding, and related safety measures. Through the module "Ride Safe, Arrive Safe" talk delivered by the legendary Cub Prix rider, Tuan Wazi Abdul Hamid – participants were urged to change their mindset, and riding skills to ensure their safety, and other road users.
The Talk was divided into two sessions, with the first coordinated by the Royal Malaysian Police. Tuan ASP Suwardi Mat Desa from the Selangor Contingent Police Headquarter was invited as the Speaker for this session. He particularly touches on the rules and regulations, impact and consequences of riding recklessly on road.
According to En Sazally Saidi, Group Chief Executive Officer, "It has been our continuous efforts and commitments to organize such programs to reduce accident rates, especially involving motorcyclists. One of the biggest contributing factors of accident, is attitude. We hope this program would raise participants' awareness of the importance of safe riding."
Overall, the Road Safety Awareness Talk was a successful event that brought together key stakeholders to address the critical issue of road safety. We hope that participants will gain beneficial input and place high importance on the concept of "Ride Safe, Arrive Safe".